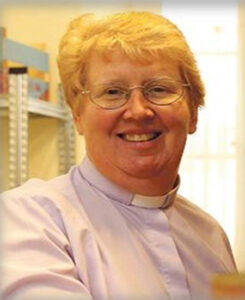 Kim Hurst
I was born in Gateshead and have been involved with the Methodist Church since I was 3 and started Sunday School. I made my Christian commitment at the age of 18 and got involved in the Lay Witness movement.
I started to train as a local preacher in 1985 just before I went to Cliff College, after a year at Cliff I moved to Cornwall where I was involved in youth and pastoral work as well as completing my local preachers training.
I worked as a Lay Youth Worker in North Yorkshire from 1993 – 1996 and then trained for the ministry at Durham. I served in North Yorkshire before moving to Cumbria and then to Malta.
This is my 5th Appointment and the 3rd as Superintendent. Most of my ministry has been in rural communities and I am very excited about being part of the Circuit Team.
I am married to Steve who I met in North Yorkshire, he was a Funeral Director and Crematorium Technician but is now a full time house husband. We have two well travelled cats as they were born in Cumbria, came to Malta with us and have now returned to the UK. I enjoy reading and solving mysteries. Steve and I love travelling, walking and anything to do with animals.
Barrie Cash
I return to Ministry as a supernumerary to try and give support and help where necessary. I have previously served in Sierra Leone, Surrey, Scotland, Northumberland and Yorkshire.
I have tried to keep up with things and enjoy leading and developing worship with both traditional and contemporary methods. I believe that it is right that we offer the best we can in the service of the Lord and push myself to do so, occasionally falling flat on my face but trying to learn how to do things. I do not believe that technology has got be left to the young and try to use it where I think it will help.
I hope to be able to support people pastorally and in any way I can whilst having to recognise that I live 22 miles from the nearest church in the circuit. I look forward to meeting and sharing but I may take me time to remember names so help me out by reminding me.