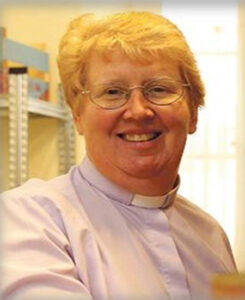 Kim Hurst
I was born in Gateshead and have been involved with the Methodist Church since I was 3 and started Sunday School. I made my Christian commitment at the age of 18 and got involved in the Lay Witness movement.
I started to train as a local preacher in 1985 just before I went to Cliff College, after a year at Cliff I moved to Cornwall where I was involved in youth and pastoral work as well as completing my local preachers training.
I worked as a Lay Youth Worker in North Yorkshire from 1993 – 1996 and then trained for the ministry at Durham. I served in North Yorkshire before moving to Cumbria and then to Malta.
This is my 5th Appointment and the 3rd as Superintendent. Most of my ministry has been in rural communities and I am very excited about being part of the Circuit Team.
I am married to Steve who I met in North Yorkshire, he was a Funeral Director and Crematorium Technician but is now a full time house husband. We have two well travelled cats as they were born in Cumbria, came to Malta with us and have now returned to the UK. I enjoy reading and solving mysteries. Steve and I love travelling, walking and anything to do with animals.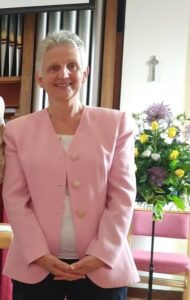 Sue Aspden
Please see Blog and Reflections page for reflection from Sue.
I am a Yorkshire lass by birth but grew up in North Wales, for the most part. My parents were very active in the Methodist church and as a consequence I attended Sunday School and church from day one. I felt the first stirrings of the Holy Spirit at an MAYC weekend (Methodist Association of Youth Clubs) at the age of 15,  but didn't become a Christian until a few years later at the age of 17.
Following my degree in Environmental Studies & Sports Studies, I have had a wide range of jobs, all based in and around the Rossendale (Lancashire)/ Manchester Area where I settled, after I started my first job in 1985. I initially worked in the voluntary sector doing environmental projects, until I started  work for the National Autistic Society as a Regional Fundraiser, and then for the Autistic Society Greater Manchester area as their Senior Officer.
I moved to Northumberland in 2005 to set up and run the Northumberland Small Task & Repair Service (Handyperson Service) and have continued to manage this team as it has gone through various transformations until it now sits within Northumberland County Council's Home Improvement Service.
I have managed the Home Improvement Service since 2011. However, I felt called to apply for the role as Mission Enabler early in 2023 and took the plunge to trust God and follow him to do something completely different. I'm now into Month 2 and learning as I go, trusting as I go, and enjoying the role tremendously.
I met Mark whilst working in Rossendale and we were married in 1995. We have 2 sons, one currently living at home and one living in Sunderland.
Mark & I love to go out walking, enjoying the Northumberland countryside & coast and have conquered the Cheviot a couple of times recently, but nothing too strenuous. I also enjoy reading historical books, especially about the Tudors, along with a variety of fiction. I'm always up for a good bargain so we often potter around car boot sales to see what we can find.